The Clinical Trial Center (CTC) strives to provide the clinical researcher with all the tools necessary to make your clinical study a straightforward, streamlined process. Clinical researchers at Loma Linda University Health (LLUH) are invited to take full advantage of resources available through our One Portal Intranet site. Access is only available while on campus and only with LLUH computer stations.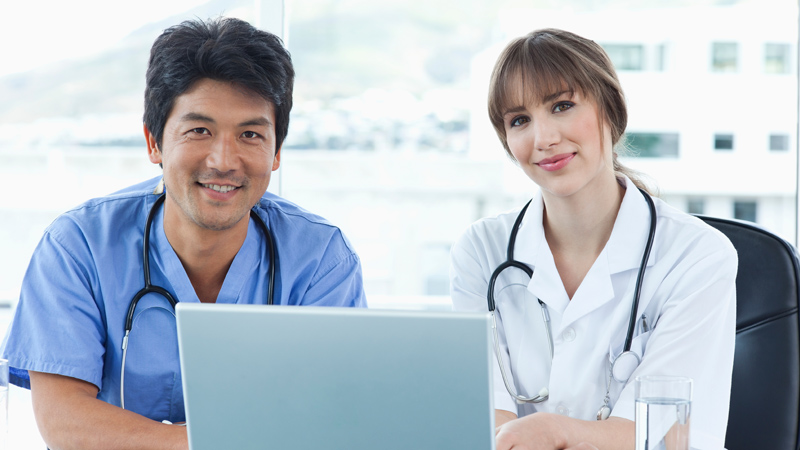 Use the Online Submission Form to submit a new study, a study amendment, or study closure.
Manage Your Clinical Study (Access via One Portal Intranet)
Processing a clinical study from onset to completion is a complex project. Careful planning is crucial in order to avoid any delays. Understanding the design and process of clinical studies can provide investigators and their staff with a comprehensive outline and detailed steps of the required processes in order to achieve the successful and efficient conduct of clinical studies. Information about processes for clinical studies and how they are designed is available on the Clinical Trials One Portal Intranet site. One Portal access is required. 
Primary Investigators and Department Administrators can view the financial status of their Clinical Trials using the Clinical Trial Center Dashboard.
Clinical Trial Center Services
The Clinical Trial Center is proud to offer a variety of services as highlighted below. We seek to partner with the Primary Investigator and research teams to support your clinical research activity. Please reach out to the CTC with any questions.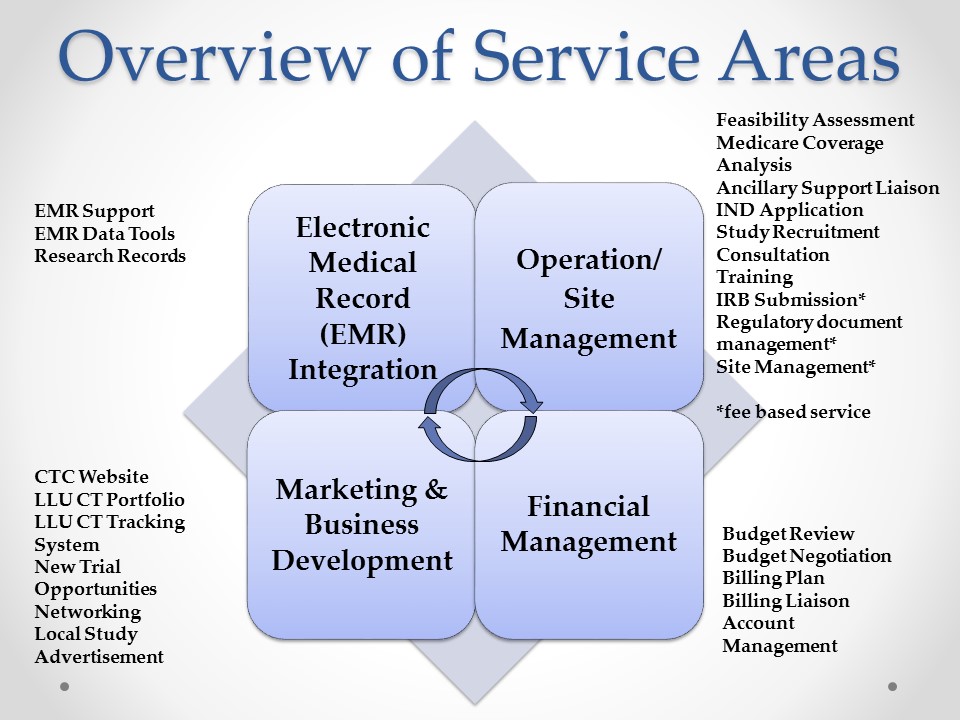 The Clinical Trial Center will serve as your primary contact during the study start up process. This leaves time for the principal investigator and study staff to plan for the start-up of the trial.
Clinical Trial Center Study Process
The chart below provides an at a glance look at the life cycle and processes involved with clinical research. CTC support is available every step of the way and serves as your primary contact with the study sponsor during your start-up process, which includes study budget and billing items. In addition, the CTC serves as the primary contact for budget amendment or payment concerns throughout the life of your study. Please feel free to contact the CTC with any questions or for assistance throughout the life cycle.

Useful Guides and Forms
Clinical Trial Center Workflow Diagram
Find what you need in our comprehensive collection of CTC forms on the One Portal Intranet. Look through guides and handbooks to discover extensive information about managing your clinical study. One Portal access is required.
How to Recruit Patients
Successful recruitment into clinical trials is best achieved by developing a practical recruitment plan based upon well-demonstrated recruitment strategies, a dedicated research team, and adequate resources. Additionally, it is crucial that the PI and the research team have positive and supportive relationships with the subjects being recruited.

The de-identified database provides data set to be used for research purposes.  THis project grew out of a need for access to raw data for research.  The raw data can be explored using tools including Tableau, SPSS, R, and Python.  It is designed to be HIPAA compliant, meaning no identifiable patient attributes are included and all dates are shifte.  It is built on top of Loma Linda's Enterprise Data Warehouse (EDW) and only contains Loma Linda data at this time. LEARN MORE
Statistical Analysis Assistance by RCG

The Research Consulting Group (RCG) provides research and evaluation services for clinical, public health, and community-based entities at the University and in the local and global community. The RCG provides expert assistance in all aspects of health research (biostatistics, epidemiology, health geo-informatics, program evaluation).  RCG personnel include senior research faculty from the School of Public Health, a full time RCG Coordinator and senior analyst, and a staff of experienced research analysts.
Additional Links
For additional research-related information, visit the links below on our site and the Loma Linda University Research Affairs website.