Welcome
The Clinical Trial Center was developed in order to provide centralized support for LLU clinical investigators and departments involved in clinical trials. Our role is assisting with the management of industry and federally sponsored trials. The Clinical Trial Center operates as a one-stop shop, and we are confident you will experience a high level of efficiency and customer service when working with us. We look forward to the opportunity of working with you to help make your trial a success.
For more information, please view our Clinical Trial Center brochure.
Identifying Principal Investigators For Your Trials
The Clinical Trial Center can assist you in identifying Loma Linda principal investigators with the research experience and expertise necessary to conduct your clinical trial. Please contact us at 909-558-5830 or via e-mail at ClinicalTrials@llu.edu and we will be happy to assist you.
Clinical Trial Center Services
The Clinical Trial Center is proud to offer the following areas of service: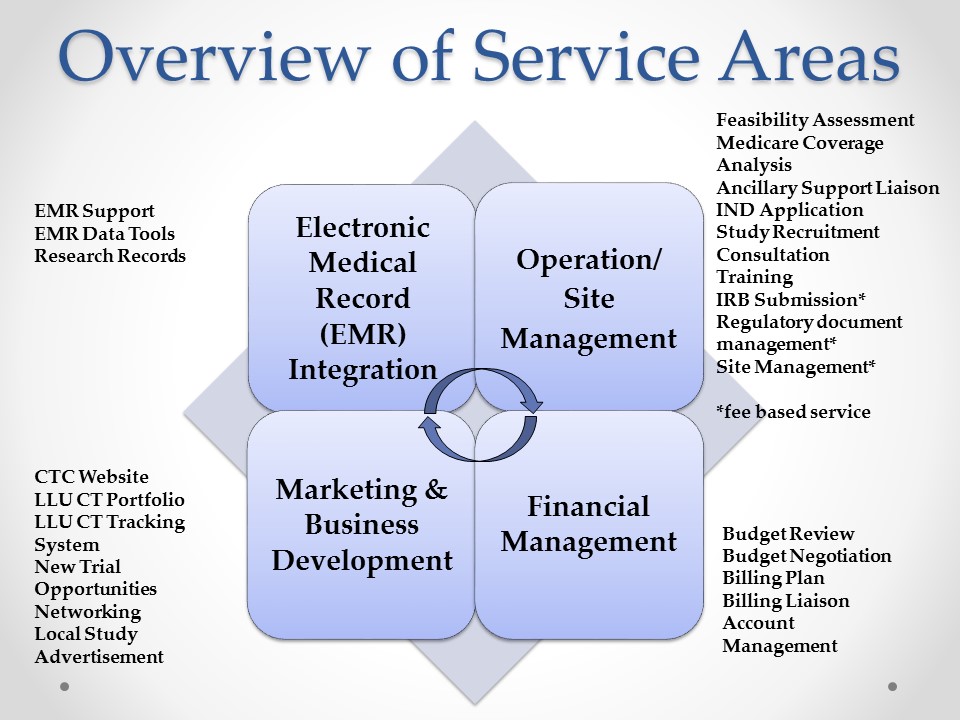 The Clinical Trial Center will serve as your primary contact during the study start up process. This leaves time for the principal investigator and study staff to plan for the start-up of the trial.
About Loma Linda University Health
Loma Linda University Health is comprised of the following entities:
Areas of Clinical Research
Cancer - Brain, Breast, Gastrointestinal, Genitourinary, Gynocologic, Lung, Lymphoma, Soft Tissue Sarcoma
Pediatrics - Autism, Tuberous Sclerosis, Muscular Dystrophy, Epilepsy, Cardiology, Diabetes, Neurology, Gastroenterology, General Pediatrics, Nephrology, Allergy, Pulmonology, Cystic Fibrosis, Multiple Sclerosis, Seizure Disorder, ADHD (Attention Deficit Hyperactivity Disorder), Critical Care
Neurology - Seizure, Neuropathy, ALS, Neuromuscular disorders, Parkinson's Disease, PSP, Multiple System Atrophy, Dystonia, Spasticity, Movement Disorders
Cardiology - Heart Failure, Electrophysiology
Rheumatology - Psoriatic Arthritis, Rheumatoid Arthritis, Lupus, Scleroderma/Systemic Sclerosis
Pulmonary, Critical Care, Hyperbaric and Sleep Medicine - Sleep Disorders, Sepsis, Critical Care, Hemodynamic Monitoring, Pulmonary Hypertension, COPD, Asthma, Resuscitation, Bronchoscopy, Interventional Pulmonology, Pleural Disease
Dermatology - Psoriasis, Acne Vulgaris, Skin Cancer, Melasma/Hyperpigmentation in skin color, Atopic Dermatitis, Skin of Color, Alopecia, Pediatric Vascular Skin Lesions and Birthmarks, Antifungals
Maternal/Fetal - High Risk Pregnancy, Neonatal
Gynecology and Urogynecology
Other Areas - Osteoporsis, Acute Kidney Injury, Apheresis, Liver Disease, Inflammatory Bowel Disease, and more!
Our Research Sponsors
We have many Sponsors and it would be impossible to list them all.  Below is a list of Sponsors we have worked with on multiple occasions.
| | | | | |
| --- | --- | --- | --- | --- |
| Novartis | Masimo Corp. | Pfizer | Allergan | Biogen |
| Pacira Pharmaceuticals, Inc | Roche | Vertex Pharmaceuticals | Mallinckrodt | AstraZeneca |
| Genentech | Acadia Pharmaceuticals Inc. | Eli Lilly Pharmaceuticals | GlaxoSmithKline | Acadia Pharmaceuticals |
| Bristol-Meyers Squibb | Actelion Pharmaceuticals | UCB Biosciences Inc. | Schwartz Biosciences Inc. | Auspex Phamraceuticals |
| Conatus Pharmaceuticals | ENDO Pharmaceuticals | Forest Research Institute | Hyperion Therapeutics, Inc. | InfaCare Pharmaceutical Corporation |
| Ipsen Biopharmaceuticals, Inc. | Merck Sharp and Dohme Corporation | Merz North America | Penumbra Inc. | Purdue Pharma LP |
| Solstice Neuroscience, LLP | Sucampo Pharmaceutcals | Upsher-Smith Laboratories | US World Meds LLC | Vision Care Ophthalmic Technologies |
| Adamas Pharmaceuticals | AMAG Pharmaceuticals | Cumberland Pharmaceuticals |   |   |