Our Leadership
Lila Dalton, RN, BSN, CCRP  |  Director of CTC
Mrs. Lila Dalton works under the auspices of institutional leadership to produce and implement the strategic plan for the Clinical Trial Center.  She oversees administration in the areas of clinical trial contracting, financial management, site operation and training, as well as development and promotion.  She collaborates with clinical trial site personnel and ancillary service providers to ensure good procedural adherence and clinical trial progress.  Ms. Dalton has been a Registered Nurse since 1992, received her BSN in 2009 and is also certified as a Clinical Research Professional.  She has over twenty years of experience in clinical research field, with specialized practice in pediatrics, neonatology, and oncology.  Her various roles within clinical research have encompassed nursing, coordination, and management.
---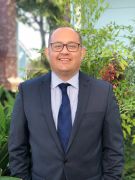 Luis Garcia, Finance and Accounting Manager
Luis Garcia has over sixteen years of experience in accounting, finance, and financial management.  This includes 5 years of accounting and finance experience in Radiation Medicine Research and 6 years experience in clinical research finance.  Currently, he partners with billing offices, clinical departments, and administrators to successfully manage clinical trial accounting and financial management cycle from startup through closeout.  He holds a Bachelor's degree in Business Administration and a Master's degree in Healthcare Administration.
---
Our Team Members
Finance and Accounting
Study Startup
Regulatory Staff
Clinical Staff
Administrative Staff