News and Announcements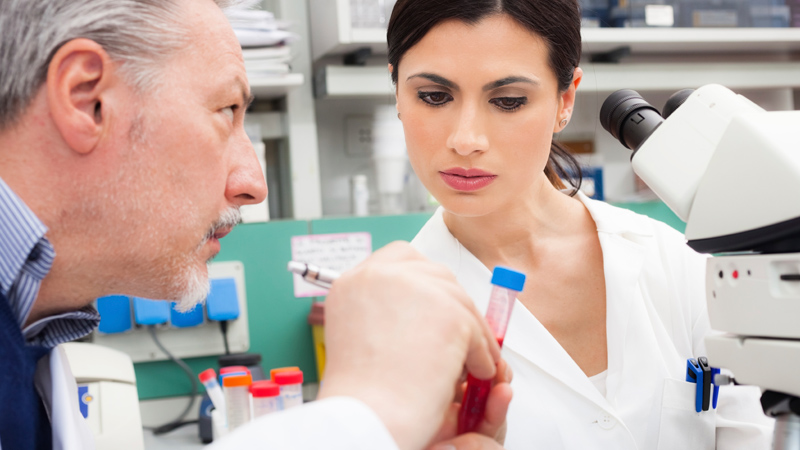 Investigator Portal Release
May 7, 2015
Aleta Savage
We are excited to release the first phase of the Research Affairs Investigator Portal.
The portal serves as a central location for access to all components related to your research at Loma Linda University Health. Information is pulled from various databases into one convenient and easy-to-navigate system.
Phase I features:
Notification of deadlines approaching for your projects, research education, and compliance requirements.
Listing of active projects and compliance (IRB and IACUC) protocols with direct link into InfoEd.
Project financials with line-item detail updated daily.
Access to the Conflict of Interest and Education & Training systems.
The portal is accessible from the Research Affairs website:
https://mylluint.llu.edu/researchaffairs/invPortal/
Please note: the investigator portal is behind the firewall and may be accessed on campus or through VPN.
Stay tuned for more updates over the next few months. 
Future enhancements to include:
Quick-links to award documents and contracts
Alerts for technical/financial reports
List of active subawards
Spending burn-rates
---
Grant and Contract Proposal Writing (3-units) offered during summer quarter
May 1, 2015
J. S. Job, MD, DrPH
Grant and Contract Proposal Writing
STAT 515 • 3 units • Fully online • Summer quarter • July 27 - August 27, 2015
Be a successful grantswriter! Enhance your academic potential and professional marketability by enrolling in this practical, skills-oriented, 5-week, fully-ONLINE course, STAT 515 Grant and Contract Proposal Writing (3 Units) offered during Summer Quarter, July 27, 2015 - August 27, 2015.
By preparing a research or program/service proposal in class which could be potentially submitted to a funding agency, you will learn key grantsmanship techniques that work. For more information contact J. S. Job, MD, DrPH (jjob@llu.edu). Employees: please check with Talent Management Services for tuition benefits. Registration opens on May 16, 2015.
This module-based course:
Presents an overview of the basic principles and practice of successful grantsmanship both from a research and programmatic perspective;
Provides a comprehensive understanding of the different processes, structures, factors and essential skills required when developing competitive proposals that are funded;
Describes the various key elements involved in proposal preparation such as identifying potential funding resources (government and private/foundations), formulating objectives, determining appropriate project/research design and evaluation methods, building budgets and sustainability plans, and understanding the grant review process.
---
GRASP and GCAT 2014 Requests for Applications Released
June 6, 2014
Sherie Donahue
Grants for Research and School Partnerships (GRASP)
A key goal of the institutional strategic plan for research, endorsed by the LLU Board of Trustees, is to expand the population of faculty involved in extramurally funded research. One mechanism for meeting that objective is to encourage faculty from different backgrounds and capabilities to collaborate in the design of innovative, interdisciplinary research proposals.
Research Affairs is pleased to announce the Request for Application for the 2014 Grants for Research and School Partnerships (GRASP) program. These awards will provide support for new investigators from different schools to cooperate in pioneering research projects. The intent of the GRASP awards is to create a training ground for collaborative partnerships that will have the capability to apply for new extramural grant applications. More information can be found on the GRASP page.
GRASP Letters of Intent due by Tuesday, October 15, 2014, 5:00 p.m.
GRASP Proposal Submissions due by Tuesday, November 12, 2014, 5:00 p.m.
Grants to Promote Collaborative and Translational Research (GCAT)
The Office of the Associate Dean of Basic Science and Translational Research is pleased to announce the fourth annual administration of Grants to Promote Collaborative and Translational Research (GCAT). These grants are designed for teams of basic and clinical scientists, who will work together to develop insights and approaches to clinically-relevant issues that have the potential to make a difference in the lives of patients. In addition, these awards will promote collaborations between clinical and basic scientists within the School of Medicine, and allow the awardees to obtain preliminary data that will help them compete successfully for external funding. Funds from the School of Medicine are to be matched 1:1 by the clinical department, for a total award of up to $75,000 to be spent over a two-year funding period.
GCAT Letters of Intent due by August 1, 2014, 5:00 p.m.
GCAT Proposal Submissions due by August 1, 2014, 5:00 p.m.
GRASP Announcement for 2013 click here
---
Retreat for Clinical Research Coordinators Underscores Importance of Research
April 18, 2013
By James Ponder
At the research coordinators retreat, which was held at the Kimberly Crest Carriage House in Redlands on January 18, Amy L. Casey, MBA, assistant director of the Clinical Trial Center of Loma Linda University, highlighted a few of the many products and procedures that have resulted from tests conducted at Loma Linda University.
The Clinical Trial Center of Loma Linda University hosted a retreat for 28 clinical research coordinators and four guest participants at the Kimberly Crest Carriage House in Redlands on Friday, January 18.
According to Amy L. Casey, MBA, assistant director of the center, retreat participants spent the day discovering their excellence and exploring how their work supports the university mission "to make man whole."
"The retreat served as a time for the coordinators to come together and discover what a pivotal role they play at out institution," notes Linda Wu, director of the center and emcee for the retreat.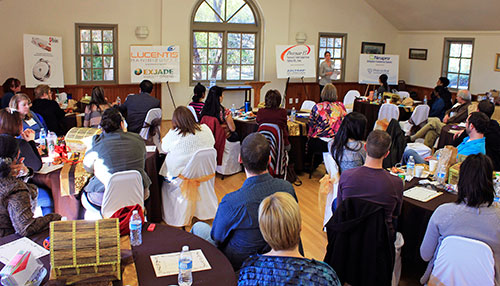 To help them do that, a number of speakers and facilitators addressed the coordinators at the event. First up was Dilys Brooks, MDiv, associate chaplain, who presented what Ms. Casey called "a most invigorating" devotional.
David Wren, MHA, CEO of LLU Health Care, delivered the key address of the day in which he discussed the foundational role of research and highlighted the importance of research coordinators to the overall infrastructure. Using the analogy of a three-legged stool, Mr. Wren pegged research, education, and health care as essential pillars on which the university rests.
In discussing the importance of personal values in shaping the culture of an organization, Barbara Sharp, executive director for professional development, noted that values, though held internally, express themselves in everyday actions and are as individual as DNA; collectively, personal values become the unique DNA of LLU.
During the morning, attendees stayed fresh and alert by participating in a treasure hunt through Prospect Park. Some of the treasures—a string of pearls, a gold chain, a cross, and a diamond—were strewn throughout the environment.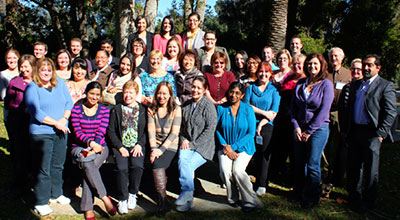 Returning to Carriage House, the group heard Lila Dalton, associate director of operations, explain that the items found on the treasure hunt represent four critical traits of clinical research coordinators: the pearls represent wisdom, the chain stands for flexibility, the cross symbolizes compassion, and the diamond points to integrity.
To help participants visualize the results of their work, Ms. Casey placed a series of eight large posters around the room, each showcasing a different drug or medical device that LLU researchers helped bring into the world for the benefit of patients. 
Research coordinator Cindy Kronbeck shared a variety of comments received from patients whose lives have been positively impacted by the work of research coordinators.
"I thank God and I bless everyone for helping me with my eyesight," wrote one participant in an eye study the center conducted. "I was not able to see, and it impaired me to do my daily activities. This study has brought my life back, and I feel a sense of security and freedom."
"I was in a study for lupus," another participant wrote. "My coordinator was very helpful. I appreciated her dedication to the study."
The perspective of the study participant was the focus of a presentation by A. Dean Sherzai, MD, PhD, director of research in the department of neurology, who reminded the group how much their work means to the people who are looking for a breakthrough or cure for the disease or condition that brought them to particapate in a clinical study.  Speaking on behalf of principal investigators across the LLU campus, Dr. Sherzai said research coordinators are a "critical asset" in the search for a cure to countless diseases.
At the conclusion of the morning, each research coordinator was called to the front of the room while a note of recognition was read aloud. The notes were written by principal investigators the coordinators have worked with, and described their individual strengths. Amid vigorous applause from their peers, each coordinator was pinned with a gold star emblazoned with the word "excellence."
Participants went home armed with new awareness of the value they bring to the organization as well as a heightened appreciation of what they mean to the study participants they work with.
---
Clinical Trial Coordinator Toolbox
A valuable, collaborative experience!
May 15, 2012
On Friday, February 24, 30 clinical research coordinators and professionals embarked on an educational adventure unlike any offered at Loma Linda before.  The Clinical Trial Coordinator Toolbox was designed with a specific focus on study and patient management which highlighted subject management, study advertising, patient recruitment and retention strategies.
It was truly a collaborative and interactive workshop where stories were shared amongst the group and coordinator successes and challenges were expressed.
Coordinators and professionals across all disciplines were present which made for a diverse group.  Some of the departments present were: Pediatrics, Ophthalmology, Maternal-Fetal medicine, Internal Medicine, Transplant, Anesthesiology, Dermatology and Neurology. The coordinators across the multiple departments were able to meet and interact with one another which in turn gathered a sense of "coordinator community" within the workshop.
Lila Dalton, Associate Director of the Clinical Trial Center and Mary Ann Nyc, Regulatory Coordinator in the Clinical Trial Center, expertly guides the attendees through the sessions. Their slides were well laid out and they passed out very useful sample forms and resources for the coordinators to reference in their everyday work.
The workshop was broken up into four sessions:
Regulatory Document Management
Recruitment and Prescreening
Subject Management: Screening
Subject Management:Enrollment through Close-Out
One particular interactive session occurred in the morning during the Regulatory Document Management session. The room was divided into teams to compete against one another to create what would ultimately be a sample regulatory binder which allowed every participant to leave with a useful tool that adds to every coordinators arsenal. The participants were quite competitive and were eager to win.
The toolbox was extremely well received as demonstrated by the evaluation form given to the participants. The lowest average score on the five point scale was a 4.9. The rating for the toolbox overall was a five across the board from all participants. One participant stated that what was most helpful about the toolbox was "learning about all of the resources and tools available to help things run smoother and maintain organization". Another participant added that "both speakers expressed not only knowledge, but a passion for what they spoke about".  The Clinical Trial Center has already received requests to hold another toolbox workshop in the future so be on the lookout for further details.
---
Clinical Trial Center Open House
July 18, 2011
On May 6, 2011, the Clinical Trial Center Staff was thrilled to find the support of so many colleagues at a very well-attended Open House.  Approximately one hundred attendees throughout the entities joined the CTC in celebrating their first permanent location since the department's official inception in 2010. 
Linda Wu opened the event by outlining the history of the Clinical Trial Center and explaining the formation of its slogan, operating as "a logistics center for transforming lives through clinical research." Ms. Wu continued by stating that the CTC could only transform lives through clinical research by working each day with an important verse in mind.  The verse is John 15:5, "I am the vine, you are the branches.  If a man remains in me and I in him, he will bear much fruit; apart from me you can do nothing." This message is the key component in the daily operations of the CTC, knowing that with God, their work will be fruitful.
Following this introduction, Chaplain Dilys Brooks gave a blessing upon the office. The celebration continued as guests toured the offices, socialized with colleagues, and enjoyed hors d'oeuvres such as "false claim" cookies, "double-dipped" strawberries, and "kickback" punch.
"Thank you so much for the support at the well-attended open house.  We are truly blessed to work with such a supportive group of individuals who all strive to work together to transform lives through clinical research." –Linda Wu, Director, Clinical Trial Center
---
Clinical Research Finance & Billing Compliance Workshop: An Educational Triumph
March 4, 2011
More than one-hundred twenty research personnel attended the Clinical Research Finance & Billing Compliance Workshop at Wong Kerle Conference Center on February 24 and 25. Amongst the attendees were Principal Investigators, Administrators, Coordinators, Nurses, Technicians, and other research-related staff.
So why all the fuss? With the government intensifying regulations around medical billing, it was time to provide an opportunity for research personnel to learn the most current finance and billing guidelines as they pertain to human study research at Loma Linda University. The workshop was initiated by the Compliance department and developed in cooperation with the Clinical Trial Center, Staff Development and other Loma Linda University research stakeholders.
Day-1 of the workshop was designed to provide high-level information particularly relevant to Principal Investigators in addition to their supportive staff. Alternatively, Day-2 was geared specifically toward the supportive staff with a practical application context. 
Dr. Roger Hadley, Linda Wu (Director of the CTC), and Dr. Daniel Giang opened the workshop with some valuable insights into the importance of billing and finance compliance as well as the PI's role and responsibilities.
Kerry Heinrich (Attorney with Loma Linda University's Legal Department) and Beth Elwell (Director of Compliance Operations) gave an in-depth look into current regulations as well as Medicaid/Medicare/CMS guidelines.
Linda Wu acted as a guide to workshop participants, walking them through a Medicare Coverage Analysis, Budget Development, and Feasibility Meeting. 
To make the connection between billing and medical records, Jennifer Miller (Director of LLUMC Medical Records) teamed up with Karen Koehn (Program Manager, Compliance), Patti Radovich (Manager-Nursing Research at Patient Care Services Administration), and Beth Elwell.
Representatives from the FPBO, PBO, LLUHC Finance, Sponsored Projects Financial Management, and the Clinical Trial Center were able to help workshop participants understand the varying roles of research personnel within the billing process, and how to take advantage of recent system developments to increase efficiency and accuracy.
Serving as Master of Ceremonies for the event was Lila Dalton (Associate Director of the CTC).  She kept the two-day program on target, provided workshop participants opportunities to network, and ensured that all participants could be comfortable asking questions either verbally or via anonymous notes.   
Attendees were asked to complete a Post-Test at the end of both days. Each test was followed up with a review to ensure that any unanswered questions were addressed.
All workshop sessions were recorded and will be available as an online training in the near future.  Research personnel can expect to receive an email announcement as soon as this feature is prepared for use.
To the following individuals, a special thank-you for your valuable contributions to this successful event:
Beverly Beck
Shayne Bigelow-Price
Amy Casey
Lila Dalton
Beth Elwell
Dr. Daniel Giang
Rick Grable
Dr. Roger Hadley
Kent Hansen
Kerry Heinrich
Andrew Holland
Carolyn Hurlbut
Karen Koehn
JR Krausz
Jennifer Miller
Patti Radovich
Sarah Roper Schrag
Barry Stimmel
Arlin Tueller
Michael Wilson, Jr.
Linda Wu
---
Clinical Trials and GCP Workshop a Success
March 29, 2010
On March 24th and 25th, fifty-six LLU research professionals attended the first Clinical Trials and Good Clinical Practice Workshop on-site at Loma Linda University. Attendees included principal investigators, clinical research coordinators, and a variety of other research support staff. The workshop was organized by the Clinical Trial Center in partnership with LLUMC Staff Development and LLUAHSC Research Affairs.
Seventeen clinical trial experts imparted their knowledge on a broad variety of topics, ranging from Dr. Deming's exploration of Study Protocols to Desiree Wallace's look at Study Drug Management. Dr. Zuccarelli, Associate Vice President of Research Affairs, provided a number of case studies demonstrating the importance of Conflict of Interest Disclosures at Loma Linda University.
Kristy Burroughs and Cindy Kronbeck educated and entertained the audience with their role-play version of Informed Consent, and Linda Wu provided a sneak-peak at the Clinical Trial Center website as she guided participants through the Clinical Trial Life Cycle.
Round-table discussions and Expert Panel sessions afforded attendees the opportunity to ask questions and delve into conversations on hot-topic issues.  In addition, clickers, games, giveaways, and group activities helped to keep everyone engaged with the topics at hand.
The workshop also provided a networking environment in which participants spent time connecting with fellow colleagues within LLU's research community.
A special thanks to the speakers and panel experts for their valuable contributions at this event:
Donna Bennett
Dr. Arlin Blood
Kristy Burroughs
Amy Casey
Dr. Douglas Deming
Sharon Fabbri
Linda Halstead
JR Krausz
Cindy Kronbeck
Dharmaseeli Moses
Janice Quick-Wolfe
Patti Radovich
Tami Terry
Candy Turner
Desiree Wallace
Linda Wu
Dr. Anthony Zuccarelli
---
May 2012 Newsletter | January 2012 Newsletter | October 2011 Newsletter | July 2011 Newsletter
April 2011 Newsletter | January 2011 Newsletter | September 2010 Newsletter | June 2010 Newsletter